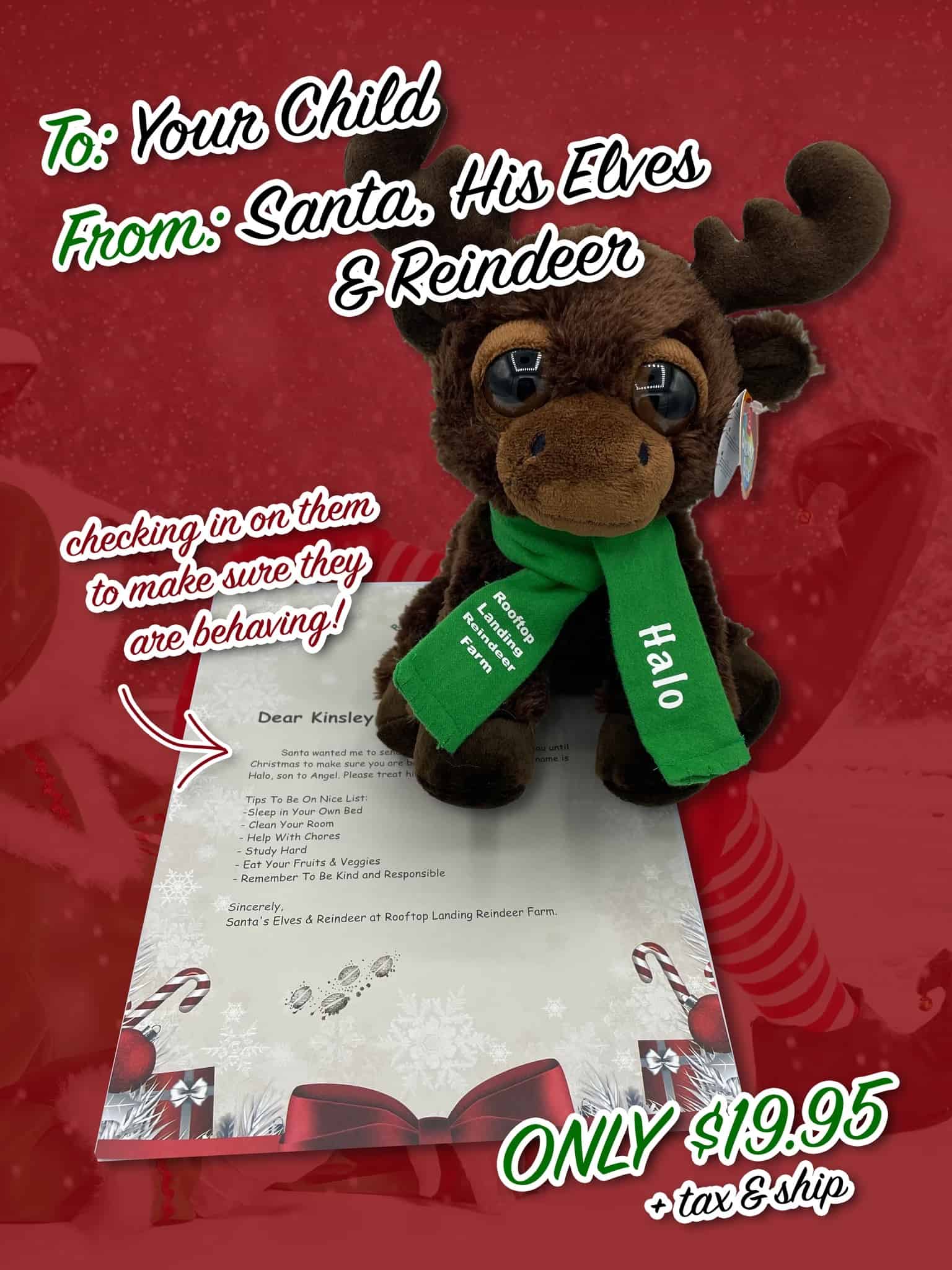 Halo Plush Reindeer With Custom Letter
Price: $19.95
This year, Santa Elves are sending Halo, son of Angel (our most famous reindeer) to keep an eye on your little one until Christmas. They will receive this adorable plush reindeer wearing a custom Rooftop Landing Reindeer Farm scarf, along with a custom addressed letter from Santa's elves & Reindeer. Feedback was so great last year that we decided to do this again. Thank you for all of your support – we hope to see you at the farm this year.
Reindeer Plush:
Very soft brown plush reindeer with custom scarf and letter
Scarf color may vary
Sample Letter:
Dear Molly,
Santa wanted me to send this reindeer to look after you until Christmas to make sure you are being good. This reindeer's name is Halo, son to Angel. Please treat him with care.
Tips To Be On Nice List:
Clean Your Room
Help With Chores
Study Hard
Eat Your Fruits & Veggies
Be Kind To Others
Sincerely,
Santa's Elves & Reindeer at Rooftop Landing Reindeer Farm
BONUS: Every child that receives a Halo Plush Reindeer with Custom Letter will be automatically added to ReindeerCam's Nice List Search for them to check in on anytime & anywhere!
SHIPPING NOTICE
Ships to US only. Because of the threat of delayed postal deliveries again this holiday season, we strongly suggest you order the holiday items you would like delivered to family and friends extra early this year. Thank you for understanding.
SOLD OUT!
---
Don't panic! You can still get on the Nice List — Supporters can add as many names as they like…
---