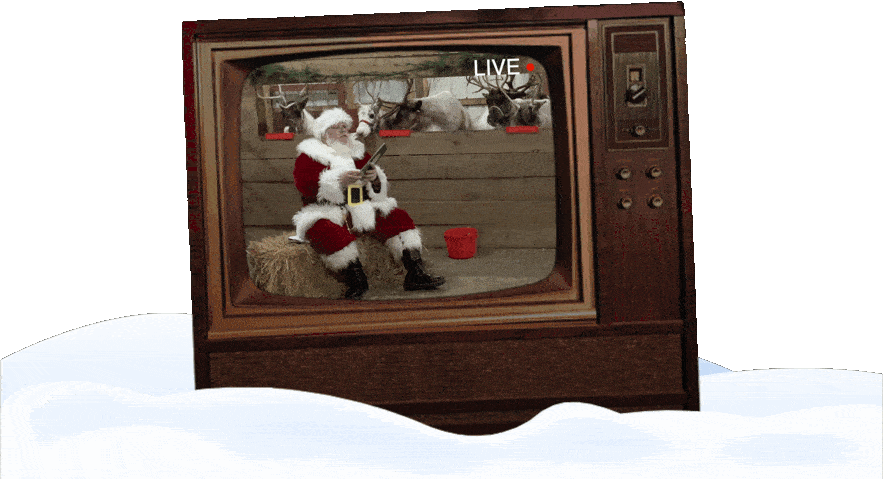 What is ReindeerCam?
ReindeerCam is a 24/7 broadcast of Santa's reindeer that features LIVE daily visits from Santa and friends throughout the Christmas season.
Santa Show Times
Monday through Saturday @ 8:30pm ET
Sunday @ 5:30pm ET
Christmas Eve @ TBA
Additional features are available to ReindeerCam Supporters that pledge just $5 or more per year. These features are great for people with kids and include:
Names on the Nice List & Scroll
No ads or spoilers
Unlock our entire library of family friendly entertainment
PRO TIP: When a ReindeerCam Supporter adds names to the Nice List, those names will always show up on the scroll above the LIVE video! Just make sure you're logged in for it to work. Mobile App and website only — will not work on Facebook or other social media broadcasts.
What Our Fans Have to Say
Loved by millions around the world!
We love this app!

My daughter will be 10 this year and we look forward to opening this app every year since she was just starting to walk!! It's so exciting to see Santa read stories!!!

Aalioshin
Love Reindeer Cam

We have been watching the reindeer cam for the past two years and it is so amazing for little ones. My daughter loves it and we even check in once in a while in school. I work with Pre-K and it is amazing to see their eyes light up when they see the reindeer! Definitely a magical and beautiful thing.

Happychic34
Family Tradition

My daughter has enjoyed watching the reindeer and hearing the stories for several years now!!! We always get super excited when it's time for the cams to start back up! This is absolutely wonderful and thanks so much for all you do!!!

Sylveonmoon
Totally Christmas!

We have been watching for a few years so I purchased the app. My grandson was watching the other night and was totally excited, looking forward to many more years of watching and what you have in store for the future! Thank you and Merry Christmas

Mimieavers